The New York City Tour Guide Licensing Exam
According to Commissioner Gretchen Dykstra of New York City's Department of Consumer Affairs, "All visitors to New York City deserve an accurate and colorful tour." Toward that end, Justin Ferate was selected by the NYC Department of Consumer Affairs to create the new licensing examination for prospective New York City Tour Guides. Tour Guides must pass this examination to confirm their knowledge of landmarks, history, and public points of interest in and about the City.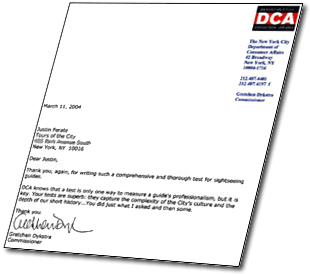 Commissioner Dykstra writes:
Dear Justin:
Thank you, again, for writing such a comprehensive and thorough test for sightseeing guides. DCA knows that a test is only one way to measure a guide's professionalism, but it is key.
Your tests are superb: they capture the complexity of the City's culture and the depth of our short history...You did just what I asked and then some. Thank you.
Gretchen Dykstra,
Commissioner
New York City
Department of Consumer Affairs



Reference Links and News
» Department of Consumer Affairs Press Release, January 2004
» Test your NYC Knowledge, Gotham Gazette July 14, 2003
» NPR Article and streaming audio broadcast, June 2, 2003 Listen on-line!
» Department of Consumer Affairs announcement